.
Videos posted to Twitter and Facebook show a man being pulled out of his seat and down the aisle of the plane by three security officers.
The incident occurred on Flight 3411, which was waiting to take off at Chicago O'Hare Airport for Louisville, Kentucky.
Audra Bridges, who said she was on the plane and posted video to Facebook, told the Courier-Journal the flight was overbooked by four people.
Bridges said passengers were allowed to board the flight but were later told four people would need to give up their seats for four United employees who were needed in Louisville on Monday.
She said no passengers volunteered, so a manager came aboard and said passengers would be randomly selected and asked to leave.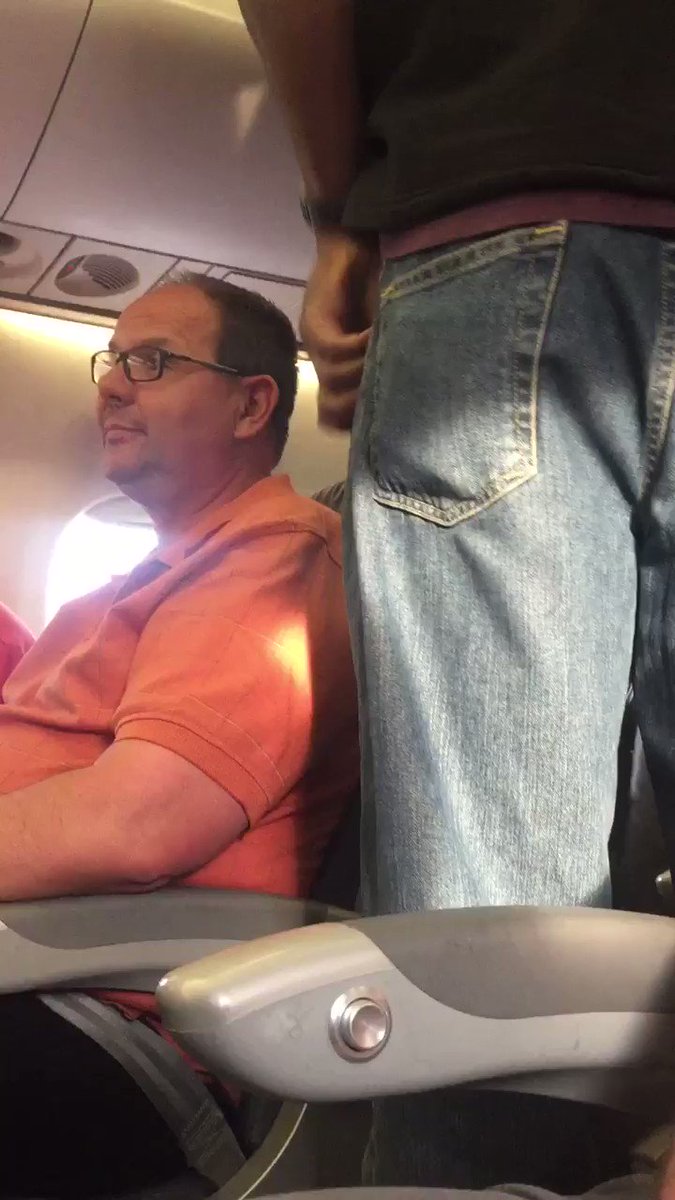 When asked to leave, the man in the video became "very upset" and said he was a doctor who had patients to see the next day, Bridges said.
A manager then told him security would be called if he refused to leave the plane. Three security guards then removed him from his seat while other passengers yelled in disgust.
Another passenger, Jayse D. Anspach, posted a series of tweets about the incident.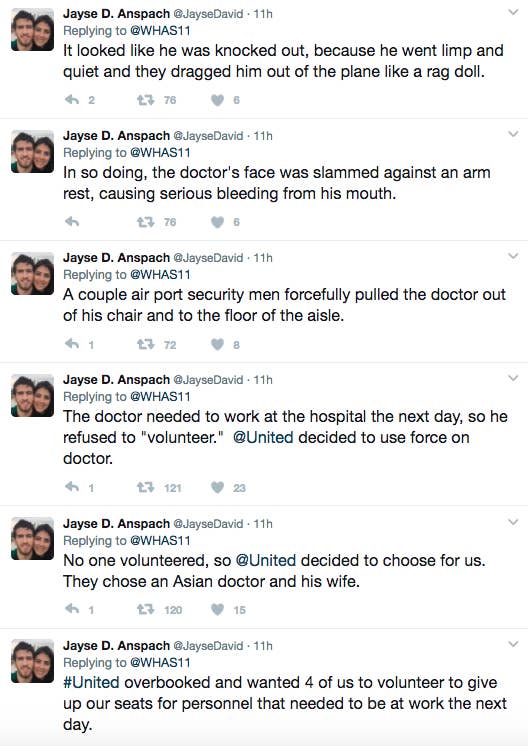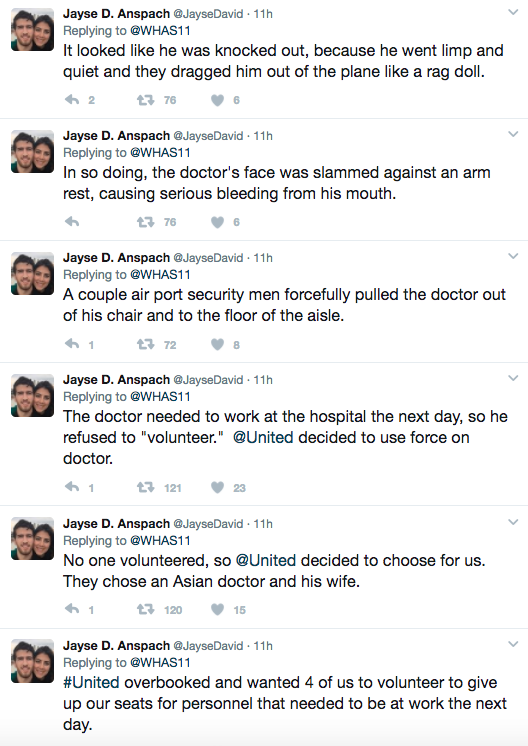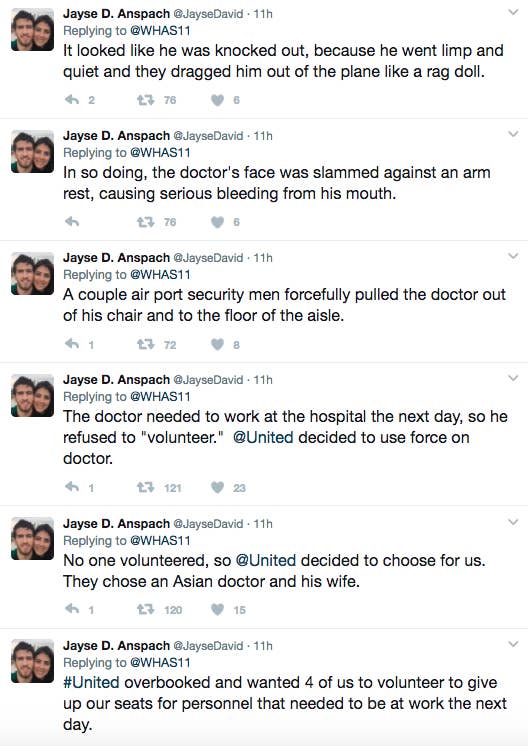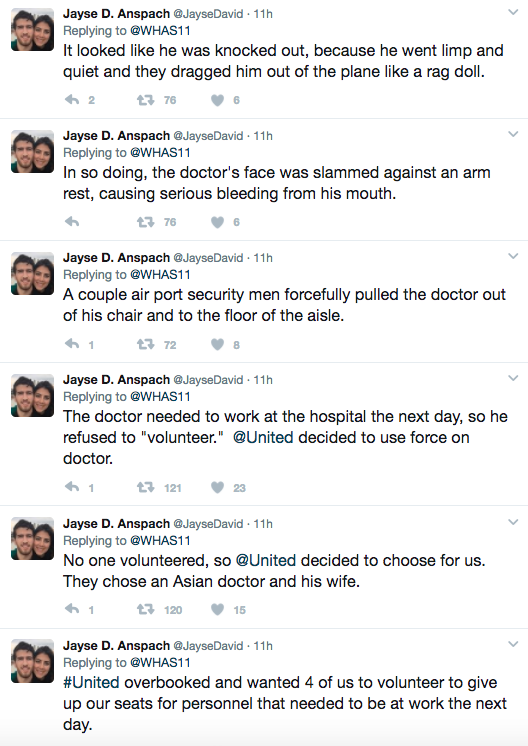 Anspach tweeted that the doctor was later allowed back on the plane and appeared to have a "bloody face."
By Monday evening, the Department of Transportation said it was reviewing whether United followed consumer protection regulations.
"The Department of Transportation (USDOT) remains committed to protecting the rights of consumers and is reviewing the involuntary denied boarding of passenger(s) from United Express flight 3411 to determine whether the airline complied with the oversales rule," a spokesperson said. "The Department is responsible for ensuring that airlines comply with the Department's consumer protection regulations including its oversales rule. While it is legal for airlines to involuntary bump passengers from an oversold flight when there are not enough volunteers, it is the airline's responsibility to determine its own fair boarding priorities."
When asked about the incident, United Airlines released the following statement:
Flight 3411 from Chicago to Louisville was overbooked. After our team looked for volunteers, one customer refused to leave the aircraft voluntarily and law enforcement was asked to come to the gate.

We apologize for the overbook situation. Further details on the removed customer should be directed to authorities.
When asked why the airline had the man forcibly removed, and whether that was standard procedure in cases of overbooked flights, United refused to comment.
Instead they told BuzzFeed News all further questions should be referred to Chicago Police. BuzzFeed News contacted Chicago Police and were told to contact the Chicago Department of Aviation. When BuzzFeed News contacted the Chicago Department of Aviation, the call was transferred to a TSA message bank. A TSA spokesperson later told BuzzFeed News they were not involved and to contact Chicago Police.
The Chicago Police Department eventually released a statement saying, in part, that the 69-year-old passenger "fell," causing his head to strike "an armrest causing injuries to his face."
read more
.
.