.
At 7:23 on Sunday evening, the conservative internet personality Mike Cernovich tweeted that former national security adviser Susan Rice had requested the "unmasking" of Americans connected to the Trump campaign who were incidentally mentioned in surveillance readouts. At 7:30, the owner of the Twitter account MicroMagicJingleTM noticed, and began blasting out dozens of tweets and retweets about the story.
"Would be nice to get 'Susan Rice' trending," he tweeted at 8:16. And then he made exactly that happen.
MicroMagicJingleTM is the latest incarnation of MicroChip, a notorious pro-Trump Twitter ringleader once described by a Republican strategist as the "Trumpbot overlord." He has been suspended from the service so frequently, he can't recall the exact number of times. A voluminous tweeter, his specialty is making hashtags trend. Over the next 24 hours, following his own call to arms, MicroChip tweeted or retweeted more than 300 times about Rice, including everything from a photoshopped image of Donald Trump eating her head out of a taco bowl to demands that she die in jail, and almost always accompanied by the tag #SusanRice. Meanwhile, in massive threaded tweets and DM groups, he implored others to do likewise.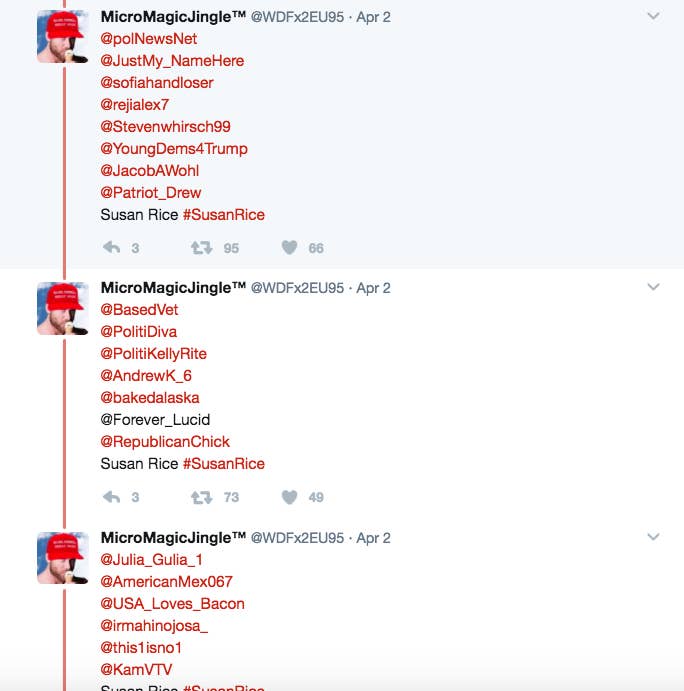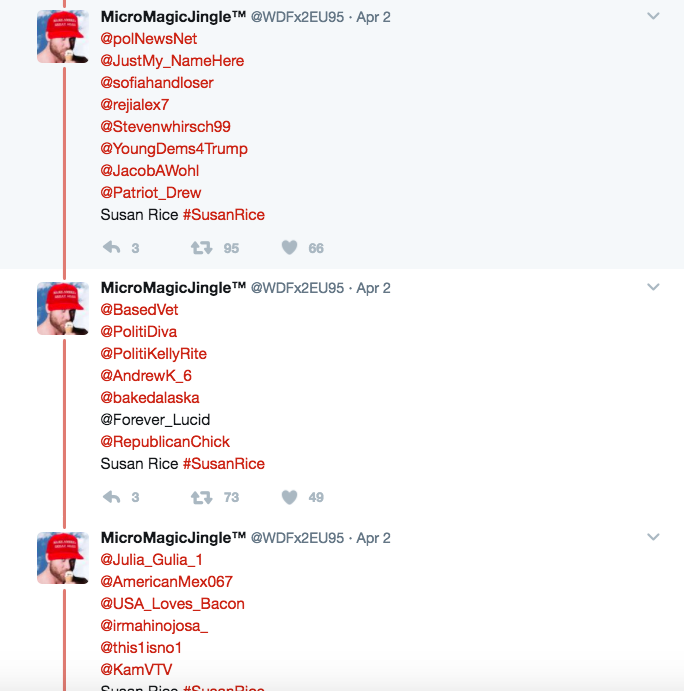 By 9 a.m. Monday, the tag was being tweeted nearly 20,000 times an hour, and was trending on Twitter; by 11 a.m., 34,000 an hour. (As of Tuesday morning, the tag was still trending, partially thanks to a tweet from Donald Trump Jr.) At 4:48 p.m. Monday, 18-odd hours after he started his campaign, MicroChip was ready to call it a success:
Before? What did he mean by "before"? Before the election, before the campaign, and long since before "Russian interference" was the mantra of every political consultant, British former member of Parliament, and American senator turned Tolstoy enthusiast, MicroChip has been figuring out how to make pro-Trump tags go viral on Twitter. When people talk about Russian Twitter bots, they are, very likely, sometimes talking about his work. They've ranged from the innocuously rah-rah (#TrumpTrain), to the wildly xenophobic (#Rapefugees), to the extremely unconfirmed (#cruzsexscandal and #hillarygropedme). What they've all had in common is a method, the focus of speculation for nearly a year, and a chief promulgator, MicroChip, about whom little is known.
Indeed, MicroChip, who operates behind a VPN (a special secure network that obscures his location), is an object of fascination and fear, even among some of his political and ideological fellow travelers, who hope not to end up on the wrong side of one of his Twitter campaigns. One conservative observer of the alt-right, who spoke to BuzzFeed on the condition that his name not be used, claimed he once hired private investigators to trace him.
"You can't," the observer wrote in a text message. "He's too good."
Unconvincing internet investigations have suggested that MicroChip could be anyone from the prominent alt-righter Baked Alaska, to Justin McConney, the director of social media for the Trump Organization, to a shadowy Russian puppet master.
But in an interview with BuzzFeed News — his first with a media organization — MicroChip said the truth, both about his identity and the method he developed for spreading pro-Trump messages on Twitter, is far more prosaic. Though he would not divulge his real name or corroborate his claim, MicroChip said he is a freelance mobile software developer in his early thirties and lives in Utah. In a conversation over the gaming chat platform Discord, MicroChip, who speaks unaccented, idiomatic American English, said he guards his identity so closely for two reasons: first, because he fears losing contract work due to his beliefs, and second, because of what he calls an "uninformed" discourse in the media and Washington around Russian influence and botting.
.
.