.
British tabloid The Sun this month published two stories about a Russian "suicide game" that is allegedly linked to the deaths of 130 teenagers.

A spokesperson for the Sun told BuzzFeed News, "The Sun believes it has covered this story, which is of public interest, in a suitably sensitive manner. The facts were sourced from one of Russia's most reputable publications, part-owned by Evening Standard and Independent proprietor Alexander Lebedev."
The game has been nicknamed "Blue Whale" by the media. But there does not appear to be any concrete proof that kids who took their own lives were actually playing it.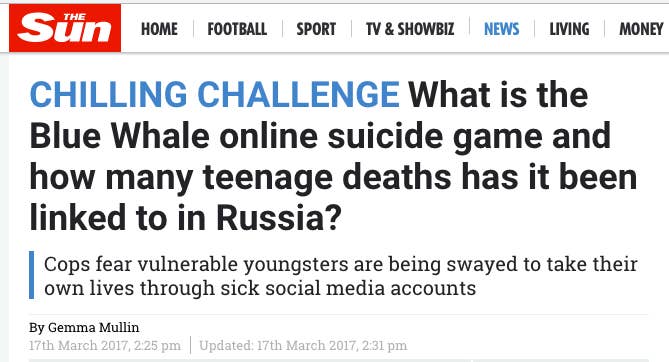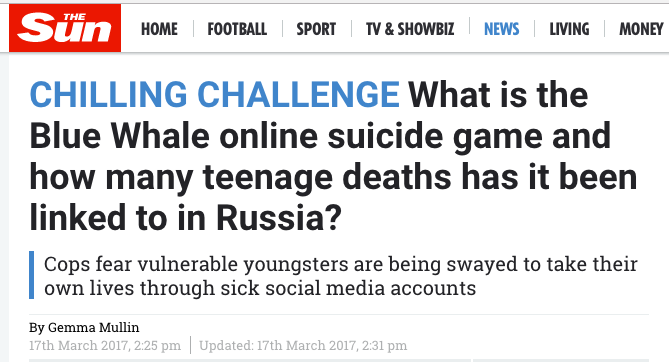 The panic began in November 2015, Rina Palenkova went viral after she posted this photo of herself to Russian social media website VK — with the message "goodbye" — shortly before killing herself by jumping in front of a train.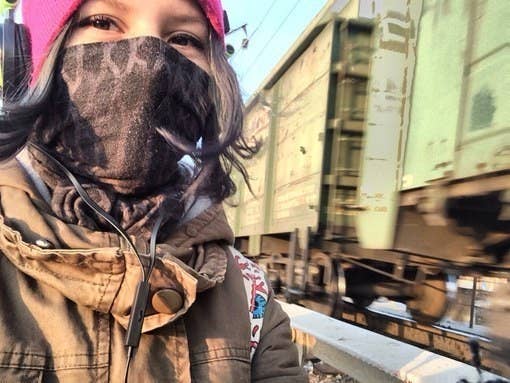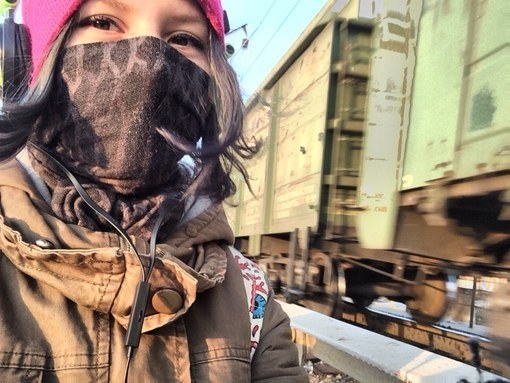 It became a meme in Russia, called Nya.Poka or "Nya, Goodbye." It made national news and marked the first time that teen culture on VK, especially teens sharing thoughts of suicide, was discussed in the mainstream Russian press. The meme quickly spread beyond Russia, as well.
Palenkova had apparently shared VK posts about depression and suicide before her death.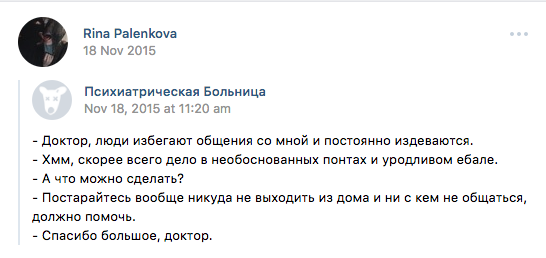 "— Doctor, people avoid contact with me and constantly bully me.
— Hmm, most likely it's a matter of unreasonable show-offs and ugly fucks.
— And what can I do?
— Try not to leave the house at all and not to communicate with anyone, should help.
— Thank you very much, doctor."
The pages Palenkova shared, many of which have subsequently been removed from VK, had gained thousands of followers by posting messages about mental health, violence, and death.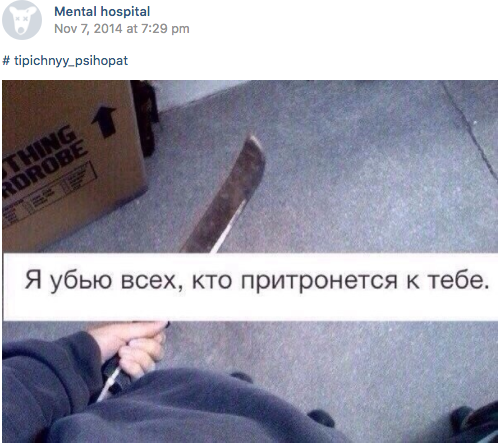 In May 2016, Novaya Gazeta published an in-depth feature called "Death Groups."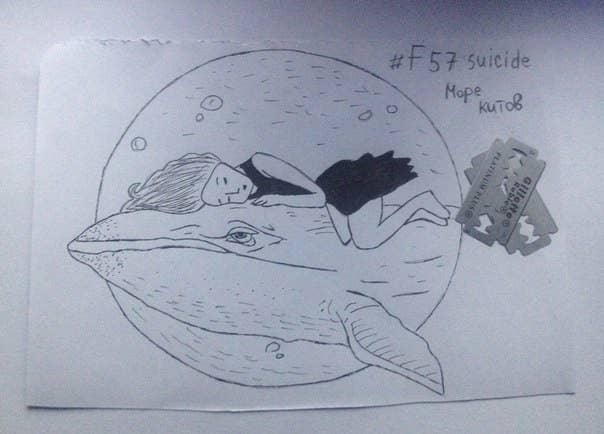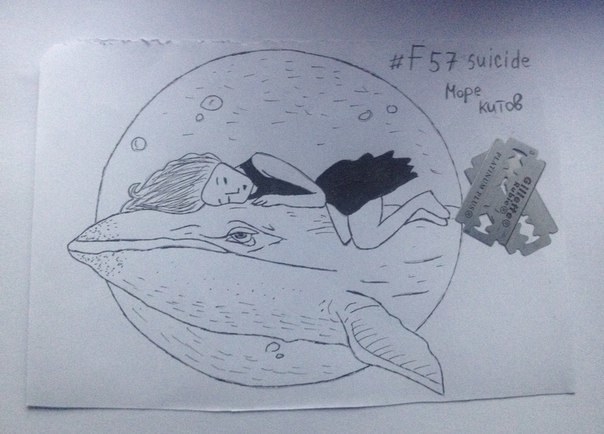 The investigation stated that there were small communities online — similar to the pages Palenkova had showed an interest in — that attracted teens with a game called "Blue Whale" or "Wake me up at 4:20."
The types of accounts whose posts Palenkova was sharing reportedly went on to publish images of her after her death. Many of these groups considered her a symbol for a darker part of the Russian-speaking internet.
According to the Novaya Gazeta article, these small, exclusive communities on VK guided teens through a series of games, with the end goal of getting them to kill themselves. These games or challenges apparently involved drawing whales, playing with knives, and waking up at 4:20 a.m. to talk to others on VK. A book called 50 Days Before my Suicide was said to have unwittingly been an inspiration for the challenge aspect of the reported groups. The name the groups soon became known as came from Russian band Lumen's song "Burn," which is about depression.
The Novaya Gazeta article suggested that Blue Whale challenges may have been connected with up to 130 children killing themselves over a period of six months.
"We counted 130 suicides of children that occurred in Russia from November 2015 to April 2016," the article reads. "Almost all of them were members of the same group on the internet."
The article was criticized by other publications. Meduza said the story "appeals to their (the writer's) own opinions" and criticized the article's failure to reach out to administrators of "Blue Whale" groups. They say that the psychologist cited in the study was the son of the author.
Novaya Gazeta responded to the criticism. The publisher has explained that the figure of 130 deaths came from the evidence of networks of parents. It has also said that its attempts to contact the people behind these Blue Whale communities were unsuccessful before publication. Days later, deputy editor of Novaya Gazeta, Sergei Sokolov was suspended from Novaya Gazeta along with a colleague. This was for allegedly "unacceptable methods" used in researching a follow up article to the Blue Whale piece
.
.
Many people find that talking about their feelings can alleviate their distress. If you're feeling in distress or suicidal now and need to talk to someone. Click Here >> www.befrienders.org
.