Iran has the death penalty for homosexuality but subsidizes sex reassignment surgery. BuzzFeed News looks at how Iran became a center of sex reassignment in the Middle East, and why many trans Iranians still find life impossible in the Islamic republic.
.
Dec. 27, 2016
.
DENIZLI, Turkey — Sorena sought out the mullah after committing a sin she feared could not be forgiven.
It was the winter of 2014, and Sorena was just 17 years old. She lived with her family in Shiraz, a city of 1.5 million people in southwest Iran. Sorena had been to consult the mullahs before as they dispensed advice from tables in the city park, mostly about how to reconcile the beliefs of her mother — who belonged to Iran's minority Sunni sect — with the teachings of Shia Islam, the faith of her father, and Iran's official religion.
But never had she come to discuss something so personal — or so potentially dangerous.
"My desires are not matched with my body," she told the mullah. "I think because I've fallen in love with someone who's the same sex as me that I'm committing a sin."
Sorena's family had raised her as their youngest son, but she saw herself as a woman when she dreamed. She'd also recently had sex with a man for the first time, and the fear that she had sinned beyond redemption drove her into a panic that lasted weeks.
Sorena didn't tell the mullah about having had sex; she just told him about her desires. But her revelation didn't shock the mullah, even though homosexuality is punishable by flogging and execution in Iran. He did not denounce her as a sinner or a pervert.
Instead, he told her, "Don't feel sinful … this is completely acceptable to us."
In the Islamic Republic of Iran — unlike any other country in the Persian Gulf region — sex reassignment is not only allowed, but also subsidised by the government.
"You are transsexual, and you have to go for the surgery," he pronounced. "It is accepted in our religion."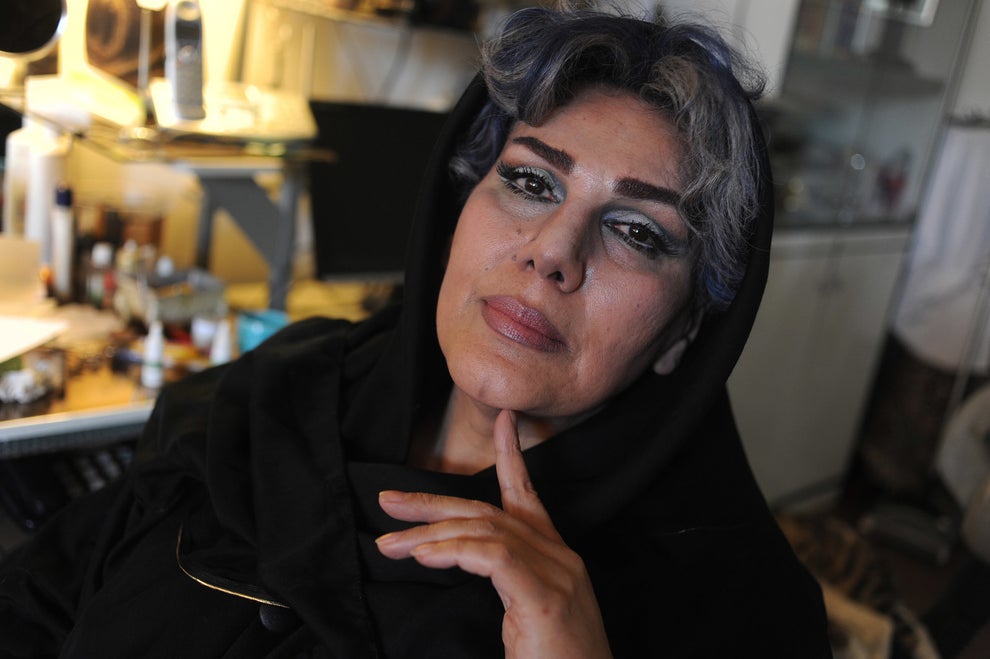 Almost 30 years before Sorena went to see the mullah, a trans woman named Maryam Khatoon Molkara marched up to the armed compound of Iran's supreme leader, Ayatollah Khomeini, to seek his blessing.
Molkara, who was then 33 years old, was dressed in full compliance with the laws regulating how men should dress, including a full beard. Her breasts, which had been developed through hormone therapy, were tightly bound beneath her shirt. She'd been trying to get Khomeini's permission for sex reassignment surgery for years; in 1978 she had unsuccessfully sought an audience with him in Paris, Khomeini's headquarters during the last months that Iran was under the rule of Shah Mohammad Reza Pahlavi, the country's last monarch.
The following year, a revolution toppled the shah and established the country as an Islamic republic. Khomeini returned from exile and was installed as the country's supreme leader, head of a council of clerics that had veto power over any legislation deemed "un-Islamic." Khomeini positioned the country to be a leader of Muslim nations in a battle against the United States — which he dubbed the Great Satan — and other Western nations considered imperialist enemies of Islam.
The new republic's laws included rules for how men and women should dress and the death penalty for homosexuality. This meant trouble for Molkara, according to interviews she gave before her death in 2012. She lost her job at a TV station, was locked in a psychiatric institution, and was injected with male hormones against her will.
Still, Molkara believed that Khomeini would side with her if she only could speak to him directly. So in 1986, she went to his house in northern Tehran to try again. She carried a Qur'an and hung a pair of shoes around her neck, a Shiite symbol meant to convey that she was seeking shelter.
"You are transsexual, and you have to go for the surgery … It is accepted in our religion."
But Khomeini's guards beat her when she insisted on speaking with the ayatollah. She was saved only because Khomeini's brother, Hassan Pasandideh, happened to pass by. He called off the guards and invited her inside.
There she unraveled, Molkara told The Guardian in 2005. She began screaming, "I'm a woman!" She opened her shirt to reveal her breasts, and women in the room ran to cover her with a chador. Molkara was first given the chance to tell her story to Khomeini's son, Ahmad, who she said was moved to tears. Then she was allowed to make her case to the ayatollah himself.
"The atmosphere, the moment, and the person were paradise for me," Molkara said of the encounter. "I had the feeling that from then on there would be a sort of light."
Molkara left the meeting with a hand-written fatwa — a ruling on religious law — giving her permission for sex reassignment. "God willing, sex reassignment, if advised by a reliable doctor, is permissible," Ayatollah Khomeini wrote.
Hundreds have undergone sex reassignment surgery in Iran since Molkara's meeting with Khomeini. Almost 1,400 people applied for permission for the process between 2006 and 2014, according to government figures published in Iranian media, and the country's State Welfare Organization even provides some funding to help cover the cost of surgery. Iran has also become a destination for transgender people seeking surgery from other Muslim countries; most countries in the region persecute homosexuals and transgender people alike.
A major reason Iran's rules on gender identity are so different from its neighbors' is that Iran is Shiite, while most countries in the region are Sunni. That's according to Iran's most visible authority on the theology of sex reassignment, Hujjat al-Islam Kariminia, a cleric and legal scholar at Tehran's Imam Khomeini International University.
Sunni teaching holds that someone's "true gender" cannot be altered, Kariminia told BuzzFeed News, but Ayatollah Khomeini's understanding of Shiite teaching is that surgery reveals their "true gender" that may be hidden within.
In fact, Khomeini had ruled that sex reassignment was allowed by religious law two decades before Molkara showed up on his doorstep. He wrote about the issue in 1965, just after he was sent into exile by the shah for challenging an agreement allowing US troops to be stationed on Iranian soil.
"If they get the surgery, the gender will not change but [their] real gender that has [long] been hidden will become visible," Khomeini wrote in a collection of judgments on religious law. Surgery is allowed if "a man finds in himself tendencies similar to a woman's, or a woman finds tendencies [like that] of men," he explained, but added that until the whole reassignment process is complete, "they [must] not act as the opposite sex does and has to, since this is haram [forbidden]." read more
.
Sign up to receive your FREE copy of Weight Loss Guide, and get expert health tips, workout ideas, delicious recipe and more...
.